Near Peggy's Cove #8, watercolour on wood panel 24 x 24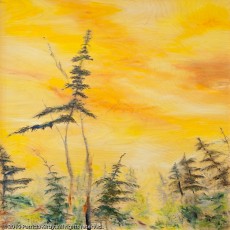 About Me
My art works are created using water media and collage on wood, paper (even synthetic paper) and canvas. I like to experiment with supports and materials, striving to express a thought or feeling through fresh colours and spontaneous gestures. I have developed techniques for applying watercolour and chalk pastels to birch panels, which is absolutely unique and full of interesting texture because the transparent watercolour brings out the grain of the wood.
This approach and indeed my body of work has been possible because I studied Chinese watercolour techniques for eight years in Montreal with noted artist and teacher Ming Ma. He taught his students to put the right colour on the first time and to go with the flow of water as it moves across the painting surface, avoiding overworking the media and the surface.
The latest gallery to represent me is Gordon Harrison Gallery in Ottawa. Other galleries have been Quinn's of Tweed, Ontario; Remington Gallery in New York state; Ottawa Art Gallery (Ontario), as well as Parkdale Gallery and Santé Restaurant/Gallery in Ottawa, and Ame-Art Gallery in Montreal. I have also showed work at Foyer Gallery in Ottawa as a juried artist.
My work now hangs in the Statistics Canada internet division as well as in private collections in Canada, the U.S., Australia, Norway, and France.